The due South Project
After several false starts and the loss of the original neighbourhood, my attempt to recreate Benton Fraser by starting with his grandparents has finally gotten to the 3rd generation (i.e., Benton Fraser). And - I finally took pictures!
This picks up
right after my last post
(which sadly had no pictures), where I managed to get Buck, Bob, and Caroline through college. Despite being engaged and in love with Bob, Caroline and Buck still had a "thing" (and three lightning bolts) so getting them out of their dorm with their relationships all intact was not the easiest thing in the world! But I managed, graduated them, and moved them back to their respective families. (Mistake
#1
: when Caroline subsequently moved in with Bob, she only brought $580 to the family funds. If I had left her in the Sim bin she'd have brought 20k. Grarrgh. However, I had the foresight to send both Caroline and Bob home from college with several key items in their inventories, including kitchen counters and couches and bookshelves, so that helped.)
Anyway. Bob moved back in with his parents and spent several
days
years as an Adventurer while waiting for a Law Enforcement career to show up. Once it showed up, he joined the RCMP and moved out with a couple of dogs. (His parents always had more dogs than kids... go figure.)
Caroline, who had moved back in with the Pinsents, moved out as soon as Bob called her and invited her over. The Pinsents were busy raising a late-in-life set of twins so she was no doubt happy to be out of there. She brought Buck over with her! He was still there, in fact, when Bob popped the question and they got married later that same day.
It was raining so I apologise in advance for the sort of fogginess of the pictures.
No, I know it doesn't look like Bob, but, hey, it's Sim genetics.
And here's Caroline:
Bob has an unexpected romantic streak!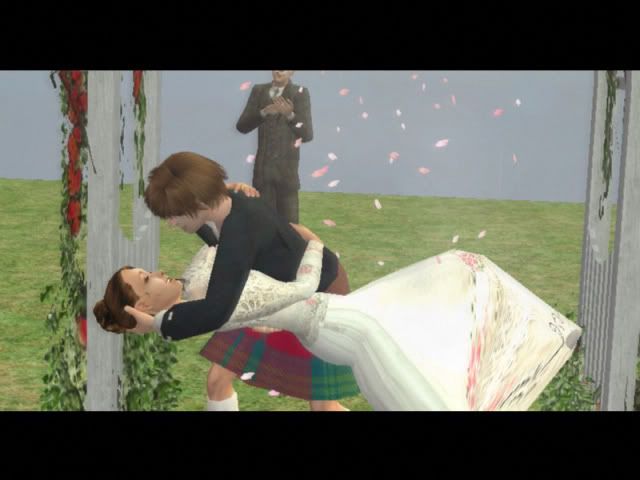 The FIRST DAY Bob goes to work he gets this chance card!
Needless to say, O2FM blew the whistle! He ended up skyrocketing to the top of his career path: Captain Hero! The result also said something about becoming a legend in his own life time. So much for dams, huh?
Since they live in the middle of nowhere, there are no fire engines. Good thing Bob is calm in a crisis.
With their new funds, Bob and Caroline buy a horse.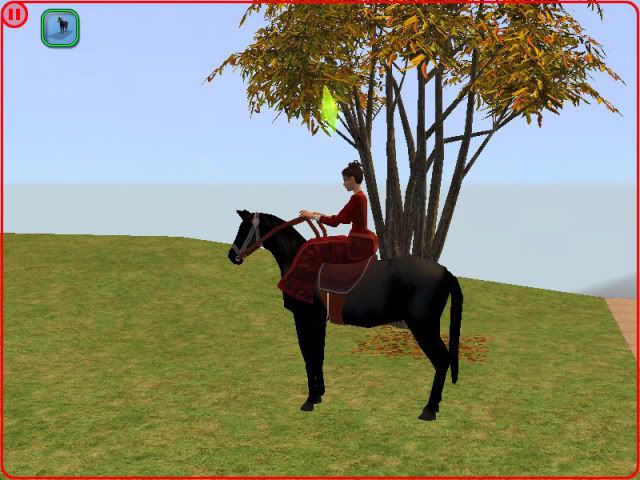 The very next day Bob goes to work, he pulls THIS chance card and walks away with 50k! Clearly that didn't happen in canon.
Caroline, who's still waiting to get a job in the Education field (and still waiting to get knocked up - despite having the bed on "Moderate" and autonomy on, they were married about six
days
years before she got pregnant), has learned to be calm in a crisis. As much as she sets the stove on fire, that's a good thing. Of course the dog isn't much help...
At last Caroline gets pregnant AND gets a job in the Education field and two days later, a little blue eyed, brown haired boy is born! I was SO pleased.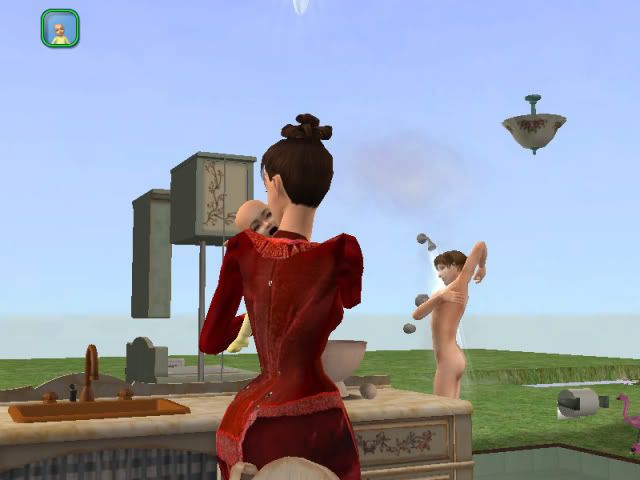 Despite being a Knowledge Sim, Bob's pretty involved with Benton, at least in the early days. Here he is right after Benton became a toddler. (I should note that, when put down, Benton made a beeline for, you guessed it, the logic toy.)
I stopped after Benton got potty trained because now I have to kill off Caroline and move Bob & Ben back in with Bob's parents, and I'm just not looking forward to that. I also have to get Buck married and reproducing and get the various Gerrards, Underhills, and others at the same age, more or less. That's my excuse, anyway.
Oh... I feel I ought to mention Tiberius, Caroline's brother. He didn't move into the dorm with them; instead he moved into the dorm where the First Nations kids were living and promptly fell for, and took up with, an Indian named Three Rabbits. I feel obliged, nay, compelled to point out that Three Rabbits is not female. I also feel compelled to point out that this was none of my doing! They were a three-bolt couple almost from the moment they met. I am SO amused by this I can't tell you. I can't wait to graduate them and send them off to raise cabbages somewhere.